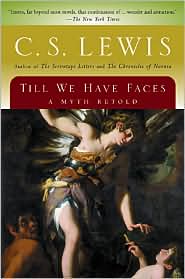 I read this for a focus book group in Nov. as it was their selection of that month. I thought I better get it posted before the year ends. I have a few more I'll be posting and trying to catch up with my book reviews in the next few days as well.
In his moralistic style, C.S. Lewis retells the Greek myth of Cupid and Psyche. The narrator is Queen Orual, who is the eldest daughter and successor of Trom, King of Glome. Also known as the "ugly sister." Orual's story begins in her childhood in her father's castle. There she is quite isolated in her life, surrounded only by her fathers servants, advisor's, and her sisters, Redival and Psyche. Redival is beautiful on the outside, Psyche possesses the most beauty from within and without and Orual is considered ugly. Orual struggles feeling any sort of love until Psyche comes into her life and she takes care of her like she would a daughter. Orual's inner struggles are great and she suffers a lot of turmoil so I really felt sorry for her yet I wasn't sure if I should during her tough times. In the end, Orual hauntingly examines herself and her world begins to change as she does.
Since this book relies more on its emotion and psychological elements with sensory details lacking, it took me a little bit of reading to get into this mythological world. The style of language Lewis wrote it in was also unique to me because I'm so unfamiliar with Greek mythology. In parts, it captivated me and other times it confused me. I think because of this I would need to read it again, perhaps. I feel this is a book I would need to read twice to grasp it because of its complexity.
Here's a quote I liked from the book in Book 2, Chap. 4:
"Often when he was teaching me to write in Greek the Fox would say, "Child, to say the very thing you really mean, the whole of it, nothing more or less or other than what you really mean; that's the whole art and joy of words.""